[Script] HTA media viewer v0.9.2
Added by Mr. BS almost 8 years ago
A little experiment using a HTA file to preview images and other medias. Tested on Windows 10 only.
To install load script bellow and extract attached zip file to your AdiIRC dir.
Preview¶
<video controls>
<source src="https://drive.google.com/uc?export=download&id=0B36riaEyLqg_YzVWUkdFMDlwQms&quot;>
Your browser does not support the video tag.
</video>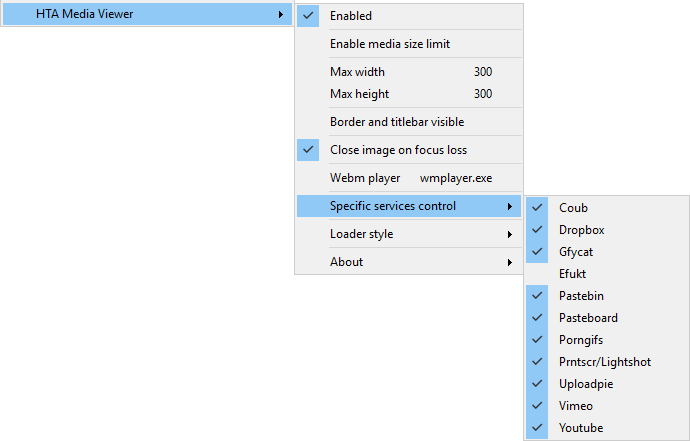 FAQ¶
When selecting text in buffer area links are automatically opened, how to avoid this behavior?
- Known AdiIRC issue. Hold

SHIFT

key in this case to avoid triggering links and, if you want copy text styles hold

CTRL

too.
How to preserve my config on installing new script version?
- Since version 0.8 config is saved to file HTAconfig.ini, keep it in safe. Backup always!
What are the hotkeys available in script?
-

ESC

to close window. |

+

or

ENTER

to toggle between limited and full size, for images only and if enabled in options. |

CTRL

to open links by hovering mouse cursor. |

SHIFT

avoid to open links, useful to copy text. | Mouse left button double click to close window. |

ALT

open window in "background" (force focus back to AdiIRC), then you can click several urls in a row. In image window this key toggles size info layer. |

CTRL

+

C

copy image url or dimensions if visible |

V

to toggle temporarily "close on focus loss" for the active window only.
What color format are supported in custom loader style?
- Standard CSS colors, for reference check this W3Schools link.
How to install¶
Load attached .ini script (Menu Tools -> Edit Scripts), it should download all required files automatically. Done.
If it prompt error on downloading files you can do manual install: extract latest zip file version to your AdiIRC config folder (Menu Tools -> Config files).
Changelog¶
v0.9.2
- Fixed urls with multiple query string parameters.
v0.9.1
- Maintenance update to fix compatibility to recent Hotlink event changes in AdiIRC version 2.7
v0.9
- First attempt to auto update script and a more simple way to install, just load script, it will download all required files for you.
- Added

CTRL

+

C

shortcut to copy to clipboard image url or dimensions if visible.
- New default width to Pastebin 1024px.
- Added config for custom Spinner window size.
- New option to toggle border and titlebar.
- New shortcut

V

to toggle temporarily "close on focus loss" for the active window only.
- Added support to Efukt website, disabled by default because for now script try to load as video even image galleries (less than %1).
- Added experimental Coub embed support.
- Added support for Dropbox sharing urls.
- Minimal AdiIRC version required increased to 2.3.
- Disabled close on focus loss for videos.
- Few cosmetic tweaks.
Requirements¶
AdiIRC v2.3+
Be free to post bellow if you can improve this script.
Replies (11)
(1-11/11)