[Plugin] Twitch @ AdiRC
Replies (13)
Love it! Any chance for FFZ and BTTV emote support ;)
edit And also Stream Title/Game Played in the topic bar of the chat ?
I don't intend to support any additions to twitch like those, sorry. As to the channel title in topic I would like to make that happen there is just a few concerns.
Twitch requires an app to identify itself these days for API calls even on trivial requests like channel descriptions etc. That means I have a few options.
1) Ship the addon with authentication information included, not something I wish to do.
2) Require users to register this plugin as a twitch app in their twitch account and giving the plugin the required identification information. In general that sounds like a support headache for me in the future.
3) Ignore the API and try to scrape it off of twitch through html. That would require additional libraries to be included and make installation more complex. I'm not even sure if AdiIRC will even let me load addition .dll's at runtime. Would also potentially break anytime twitch changes their site layout.
So, still debating how to solve this.
Thanks for creating this plugin, it's very cool.
I added this to the Plugins info in case others wants to know about loading additional DLL's
Plugins can load and use any DLL's including referencing all .NET frameworks DLL's and do P/Invoke, just like a regular .NET program.
Very impressive! Thanks for sharing it.
Here is a screenshot showing the obvious, Twitch users spam emotes a lot, in an almost default AdiIRC: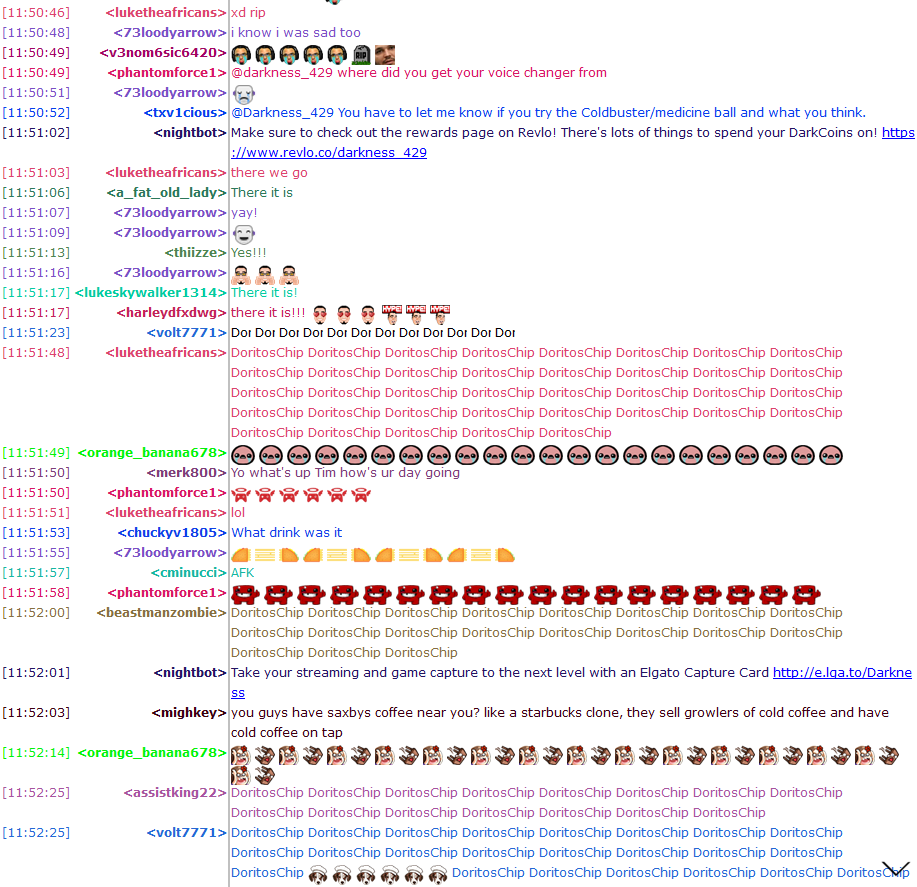 Thank-you.
adding the command "CAP REQ :twitch.tv/membership" seems the populate the user list.
Version 3 now populates and updates the topic with Game being played and Stream Title. Additionally the github page now has detailed installation instructions.
At the moment it will also show Newtonsoft.json.dll in the plugins list. Thats not ideal but it doesn't hurt either, trying to load it simply fails.
I have found that my resub notification (it runs off the usernotice raw text) fails with this plugin :(
Twitch @ AdiIRC Version 4
Added the following:
Shows Subscriptions, Resubscriptions, Prime Subscriptions, etc.
Some simple configuration options accesible through '/twitch@'
Twitch @ AdiIRC Version 5
Added the following:
Shows Twitch Badges such as Broadcaster, Moderator, Subscriber etc as part of irc Username.
Option to turn this on or off.
The badges are not proper Icons but rather Unicode Emoji, they will therefor display differently depending on your font choices.
I am still trying to work out how to get my notify script to work with this plugin
Without the plugin, it works fine.
With the plugin loaded, nothing fires...
Patebin linkage:
This addon eats notifactions like those, they probably never arrive at your script. It does show normal irc notifications in channel instead as of version 4. You'll need to rewrite that script to use those or choose between this addon or your script.
Sorry for the unintended compatibility issues.
Oh don't worry about it, I like your plugin because it has yet to screw up downloading an emote (which I had a script for, but that used to produce errors on a semi regular basis).
edit only request... with the sub message, can you add a space between the [ messsage ]
Some people use emotes at the start/end of the message, and they won't show otherwise (due to the []'s being counted in the string.)
Simple enough, newly released 5.1 has spacing between brackets for messages that include brackets.
(1-13/13)